2018 Entertainment Schedule
(Bios Below the Schedule)
Entertainer Bios
Miller | MacDonald | Cormier
https://www.benandanita.com/
Ben Miller & Anita MacDonald have become renowned across Atlantic Canada and further afield for their synergistic, pipe and fiddle driven style of Gaelic dance-music. Joining together the musical traditions of Cape Breton and the Scottish Highlands, while incorporating influences from Ireland, Shetland and beyond, Ben and Anita have created a signature sound, described as "Fiery… Fresh, yet totally traditional." – Piping Today Magazine (Glasgow, UK)
As well as performing as a duo, Ben and Anita tour as a trio with Acadian multi-instrumentalist, Zakk Cormier. Zakk is a dynamic musician with deep roots in the musical community of Prince Edward Island. He brings his talents as a sympathetic guitar accompanist, as well as the driving rhythm of Acadian foot-percussion.  As Miller | MacDonald | Cormier, these three young artists create a powerful sound, which transcends the boundaries between Cape Breton, Scottish, and Acadian traditions.
Còig
https://coig.ca/
With the release of the new album Rove, Nova Scotia's powerhouse Còig has cemented its status as one of today's most exciting new North American Celtic groups. With a combined total of over 30 group and solo awards and nominations, the four members of the band are already recognized as major stars of the Celtic world. Rove is drawing rave reviews from fans and critics and has recently been recognized with a 2018 East Coast Music Award for Traditional/Roots Recording of the Year, a JUNO Award nomination, and 2017 Canadian Folk Music Award and Music Nova Scotia Award nominations.
Còig's like no other, thanks to the unique mix of four different talents. They all have traditional roots, but each brings something more. Fiddler Chrissy Crowley has touches of world and contemporary music. Pianist Jason Roach has a jazz degree, Darren McMullen (guitar, banjo, mandolin, etc.) has worked everywhere from Irish to rock groups, and fiddler Rachel Davis is the most Cape Breton trad, but with folk and roots infused flavours as well.
The group's debut Five, released in June, 2014, earned them the 2014 Canadian Folk Music Award for Traditional Album of the Year, the Music Nova Scotia Award for Traditional/Roots Recording of the Year, and the 2015 East Coast Music Award for Roots/Traditional Group Recording of the Year. That was followed by 2015's Carols, already a yearly holiday favourite.
Ask anyone who has seen them, from New England theatre stages to huge European festivals to their own beloved small halls of Cape Breton, and you'll always hear about Còig's energy. Trad fans love them of course, and the crowds are growing all the time.  "We really feed a lot on the energy we get from the crowd, everybody is hootin' and hollerin' and clappin' and stompin' and goin' on," says multi-instrumentalist Darren McMullen. "We want our shows to be more where we're all just having a party together."
Còig's music is a unique combination of influences that could only come from these four players. It's traditional for sure, but it's performed in a lot of non-traditional ways.
That leads to the other magic ingredient in Còig. It's a band of fast friends, people that grew up together, played together, and knew each other way before they ever considered being in a band together.
"With that first album launching us into that whole crazy world, none of us saw that coming," says Davis. "We just saw it as a side project, and now here it is a couple of years later and it's our main focus, so it's amazing. We all want to see it last for sure."
The best in trad music, in a non-traditional way. That's Còig.
Frantically Atlantic
http://www.franticallyatlantic.com/
FRANTICALLY ATLANTIC (Don Rigley and Michelle Daigle) is a musical duo  based in Fredericton, New Brunswick, Canada.
With a broad repertoire of traditional and original songs, tunes and yarns (Celtic, Acadian and beyond), Don and Michelle celebrate Atlantic Canada and leave their audiences wanting more!
In their combined history of performing they have served up their bill of fare in the Maritimes, Newfoundland, Quebec, Ontario, New England and Ireland toting tin whistle, fiddle, guitar, bodhran, spoons, hammered dulcimer and bouzouki… with an occasional side dish of accordion, banjo, doumbek and mbira!
Michelle and Don also conduct workshops for young and old alike in music, dance, storytelling, drama and Atlantic Canadian culture.
They have performed in kitchens, barns, ballrooms, pubs, churches, restaurants, gardens, theatres, train stations, train platforms, camp grounds, elevators, and cemeteries. And they have created moveable shindigs on boats, trains, buses, hay wagons and escalators.
Altantic Bridge
https://www.facebook.com/Atlantic-Bridge-112158118860773/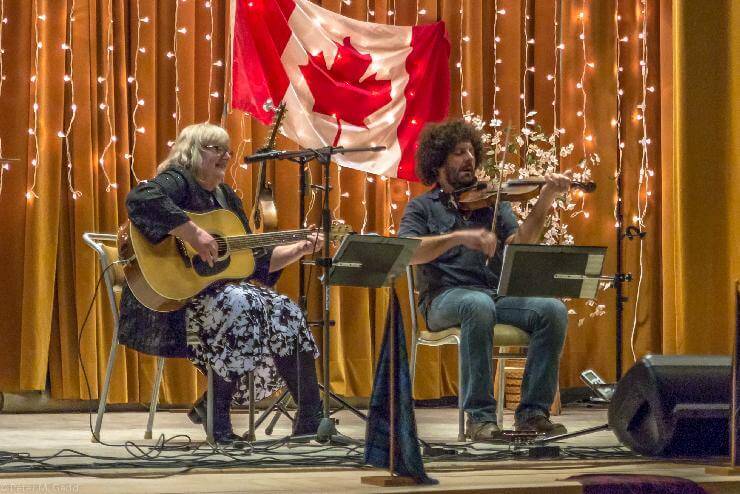 Cheerfully upbeat, with interesting and sensitive arrangements, these accomplished musicians have a love of traditional music, a respect for the cultures from whence it came, and a keen appreciation of how a few modern musical influences, used with discretion, can enhance rather than swamp the true emotions of the tunes. Superb musicianship, wonderful tunes and a happy atmosphere are guaranteed. Atlantic Bridge maintains the integrity of the traditional tunes with all the passion and exhilaration that was intended when they were composed. Much of the music is centuries old, other pieces are self-penned, or composed by some of the finest contemporary Celtic musicians. Atlantic Bridge was formed in England in 1996 by Terry Arsenault and Penny Phenix.  In 2006, Terry and Penny relocated to France for three years, where they played to enthusiastic audiences at concerts, festivals, restaurants and bars throughout the country. Based in New Brunswick since 2009, they continue to attract a loyal following. Venues have included Dolan's Pub and the James Joyce Pub in Fredericton, O'Donaghue's in Miramichi, Creek Village Gallery and Café in Woodstock, Sharkey's Pub in Florenceville-Bristol, Barnone Brewery in Rose Valley on Prince Edward Island, Moncton Highland Games and Scottish Festival, Perth Andover Gathering of the Scots, Miramichi Tartan Day and many more. And if the music makes you want to get up and dance, we can bring along our terrific dance caller, Nancy Cantaffio, to show you the moves to some easy, fun country dances from Ireland, England and Wales. No experience is necessary, and it's fun for all ages – perfect for weddings, corporate events and parties.
Ceangal
https://www.facebook.com/ceangal/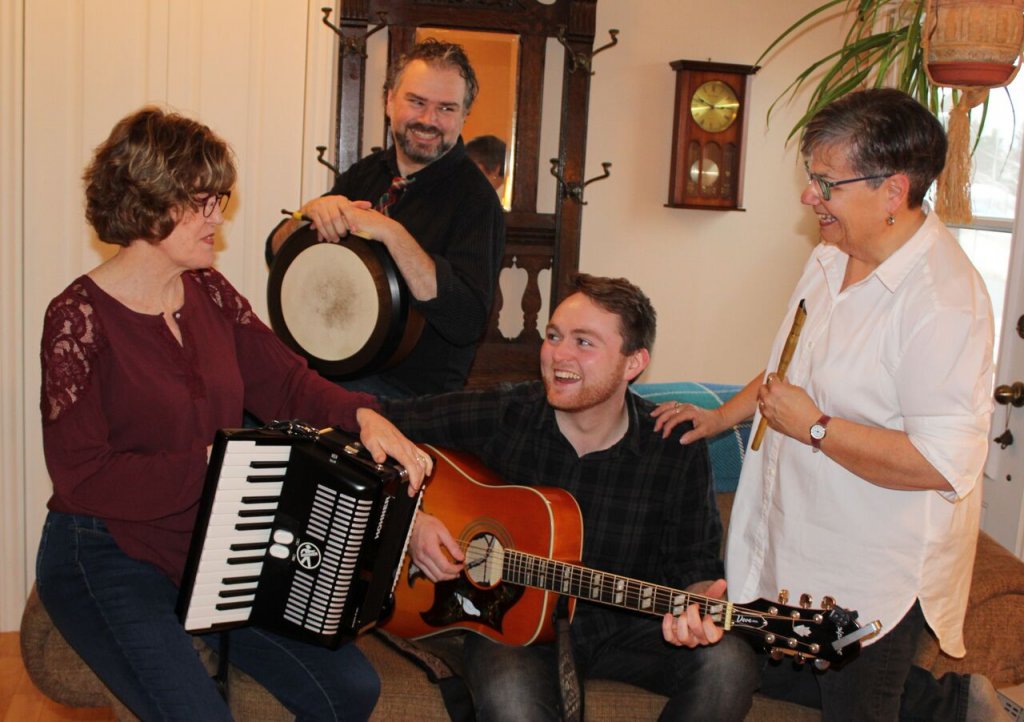 Ceangal, pronounced Kyan-gul, means link or connection in the Irish language. Connections across the Atlantic, from city to city and with the music they play, that is what brought this foursome together. From Dublin, Saint John and Fredericton the members are hardly newcomers to the Celtic tradition. With their individual backgrounds in folk/traditional music they easily blend their strengths to achieve a new perspective on an old art form.
Ceangal offers an array of songs sung in both Irish and English, fetching instrumentals and to top it off, traditional Irish dance. The band's repertoire accommodates their collective creative bent with original material and contemporary Celtic arrangements. Be prepared for the sweet sound of a haunting melody or the bold rhythm of an energetic jig. And one thing is for certain, the passion they have for their music is both conspicuous and infectious.
Members of Ceangal include: Ian Mac Gabhann vocals and guitar; Marilyn Inch whistle vocals and bodhrán; Carolyn Holyoke accordion and piano; and Adam McIntyre bodhrán and sean nos dance.
Katherine Moller
http://www.katherinemoller.ca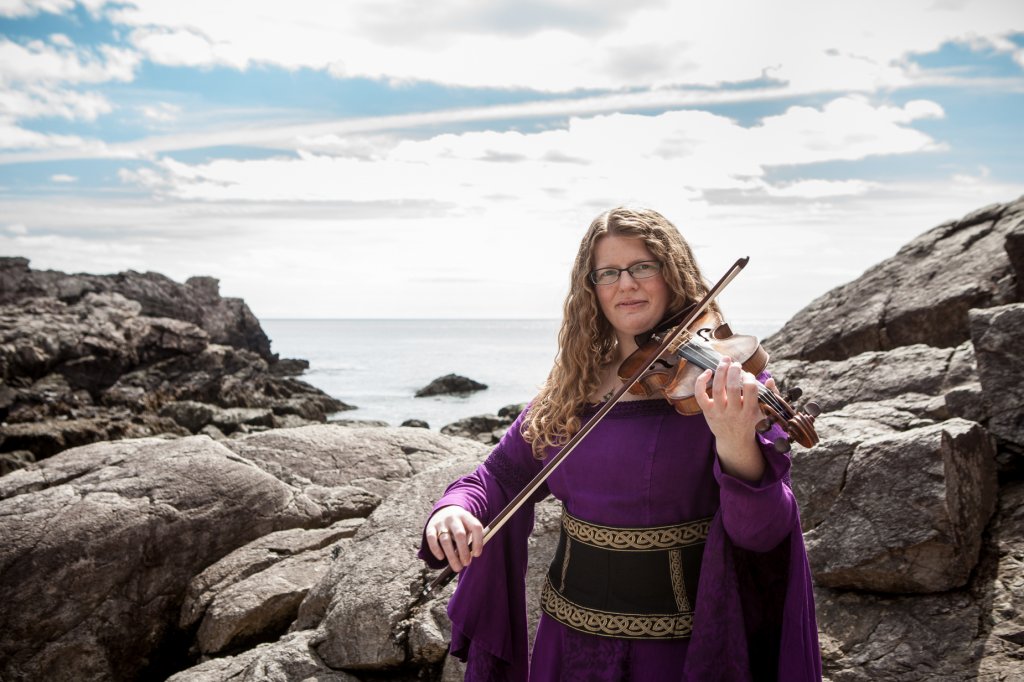 Being one of today's most vibrant, versatile and energetic fiddlers, Katherine brings together the highlands of Scotland, the lush greens of Ireland and the majesty of the St. John River Valley.  An active performer within various genres, Katherine appears regularly with Symphony NB, the Early Music Studio of Saint John, in solo shows, and with the Celtic band Different Folk.  Katherine's own music draws on traditional Celtic and Old Time fiddle music, but has now developed to feature many of her own compositions at times accompanied by an orchestra or string quartet.
As well as performing, passing along her knowledge is important to Katherine.  She runs a successful private teaching studio in the Charlotte St. Arts Centre as well as running string programmes at several local schools.
With ever-rising popularity, this 3 time Music NB Award winner and ECMA nominee shows that without a doubt, she truly is the master of four strings and a bow.
HATBand
A great Maritime sound rising from the roots and strengths of its members, the HATBand plays a bouncy mix of traditional Celtic and Maritime fiddle tunes, original songs and ballads and even a little rock and roll. They have been together for over 15 years years but, individually, they have been entertaining and honing their skills for decades. Members include Reg Hayes, George Andrews, Bill Toner and Dean Comeau.
Mariner's Curse
http://www.marinerscurse.com/
Mariner's Curse, formed from the bubbling cauldron of several previous bands, features Celtic and Canadiana music with tightly knit counterpoint and multi-part harmonies. Thierry Arsenault, on percussion, imparts a deep seated knowledge of time, meter and space with his precision drumming. Rocky Dalonzo, on guitar, has been a mainstay of the Montreal music scene for many years and his soaring tenor caps our vocal sound. Ron Jenkins, on keyboards, infuses the music with counter melodies and classical voicings and is the glue that fuses the band's sound. Alex Kehler, on fiddle and cittern is an eclectic musician, mastering a wide variety of musical disciplines for his own distinctive sound. Jonathan Moorman, on fiddle and guitar, powers his instruments with raw emotive energy, delivering an amazing connection to the music.
The Neighbours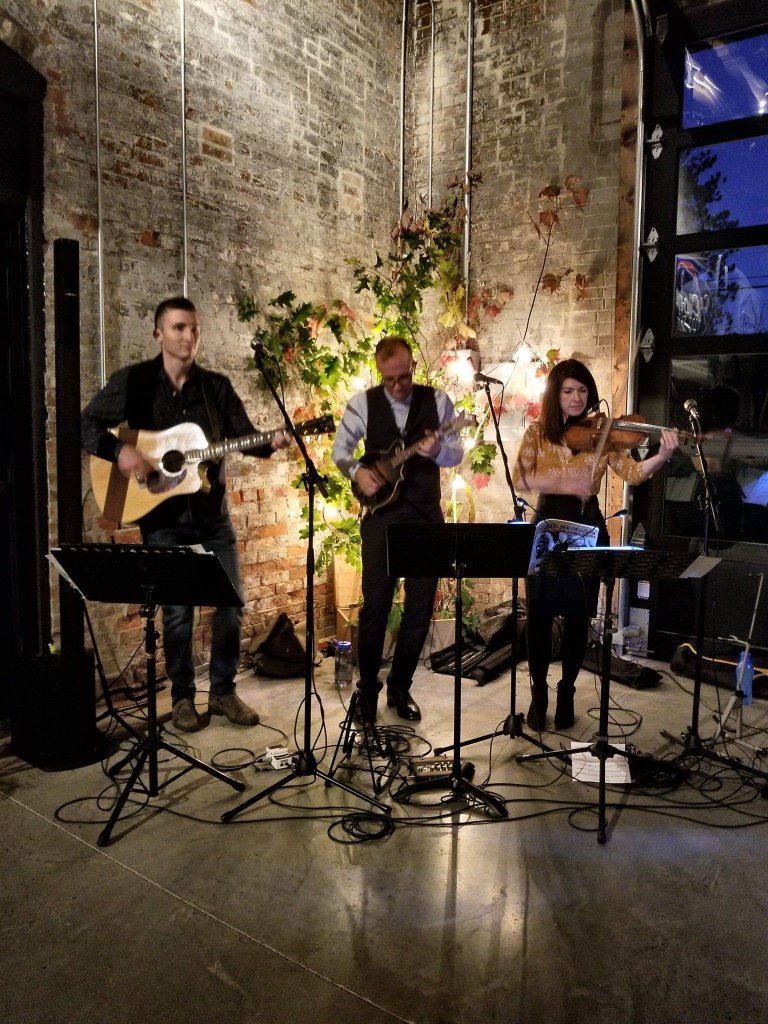 The Neighbours originated in 2015 as part of a larger folk ensemble in Winnipeg, Manitoba. As full-time musicians for the Canadian Military, guitarist Calvin Gallant, and mandolin/whistle player Terry Flick were fortunate enough to be posted to CFB Gagetown together in 2016 and along with Terry's wife and fiddle player Buffy Andrews, the trio continued making music together. All three are originally from the Maritime Provinces and are happy to be back in its rich musical atmosphere. The group performs an array of energetic Celtic tunes and soulful melodies is always excited to learn new music and share some older ones with their audiences.
The Lamey Brothers
https://www.facebook.com/LameyBrothers/
From an early age, the Lamey Brothers (Chris, Pat, Bill and Phil) enjoyed singing and playing a variety of folk, country, bluegrass, gospel and rock under the direction of their father (Jack Lamey) at concerts and local festivals under the band name McJack (Sons of Jack)… The music has stayed with them and they continue to enjoy performing together. Although they play a wide variety of music, their 1st love continues to be maritime/celtic folk music along with their own compositions of a local folk flavor, and have released a CD ("The Lamey Brothers").
The Lamey brothers will take you on a musical ride that will make you laugh, think, cry and then pull you back to laughing with their musical message and the power and harmony of their voices.
Different Folk
http://differentfolk.ca/
Different Folk is formed of Kim Moller (vocals and bodhran), Will Toner (vocals and guitar), ECMA nominee Katherine Moller (vocals and fiddle) and Don LeBlanc (Bass and vocals). An upbeat group, they perform a mix of Celtic, maritime and folk-rock with a blend of beautiful vocal harmonies and lively fiddling.
Combining a melodious mix of Maritime music with contemporary arrangements of Celtic favorites, and then adding a generous helping of foot stomping fiddling; Different Folk is just what you need to get that kitchen party started! Tight vocal harmonies with a knack for having fun are a guarantee to liven any event, big or small. So come, join in and sing along. You too might find yourself to be one of the Different Folk!
Keith Facey

Keith was born in Britain and grew up in the Halifax-Dartmouth area. From his early training as a child in classical violin, he developed a keen interest in world music, playing mandolin, Greek Bouzouki, concertina, tenor and 5-string banjo and Celtic Bouzouki. He has enjoyed and practiced all kinds of music, finally settling on Celtic, Maritime and Traditional Folk. Based in Saint John, NB, Keith tours and entertains throughout the Eastern Canada, and continues to share the music he loves.