2017 Entertainment Schedule
(Entertainer Bios Below)
2017 Entertainer Bios
Paul McKenna

"Paul McKenna is a gifted song writer" – Folk Radio UK
"Paul's vehement vocal is strikingly distinctive and intense" –  fRoots Magazine
"Highly expressive and readily identifiable voice..McKenna delivers perfectly" –  Folk Words
Glasgow has become the unofficial seat of the Scottish folk music renaissance; echoing across the moors, collecting stories from Hebrides to the borders. Composers like McKenna are journaling a frantic time of political change, in a country often stalwart but consistently overlooked for independence. Referendums. Brexit. There is change coming fast and with that, uncertainty…but always music.
The result is a generation of young songwriters blending traditional music with contemporary concerns for what is to come. Paul McKenna is at the forefront of this burgeoning genre; a master folk guitarist his empathy for Scotland and conviction for the characters, is spot on in every lyric.
Alumni at some of the worlds finest festivals (Edmonton Folk Fest, Tonder, Cambridge Folk Fest), he has toured Germany, England, Belgium, Australia, USA, Austria, Switzerland, Italy and Denmark extensively since 2006. In rotation on BBC Radio 2, BBC Alba, STV he has enjoyed wide acceptance in his native UK.
Irish immigrants on both sides of McKenna's family made their way to Scotland in the early fifties, desperately searching for work for large families. From Donegal and Mayo, they landed in Glasgow and brought with them singers, players and songs that would mark Paul for what was to come. Interestingly, he would perform outside the home for years, before he would join the circle of kin; the hardest jury of all. By then he was ready. Armed with a degree in Scottish traditional music from The Royal Conservatory in Glasgow, a satchel of Irish scores and a new voice for Scotland, he was ready to write their stories along with his own.
Named Scots Singer of the Year in 2012 at The Scots Traditional Music Awards, Paul's accolades continue to elevate him and his 4 albums blocked with well crafted tales of a people who centuries later are still seeking freedom.
Gunning & Cormier
Dave Gunning and J.P. Cormier, both individually celebrated and critically acclaimed are teaming up together on their new recording called 'two'.
Two. Two guitars, two voices. Two of the most exceptional singer-songwriters to ever rise from the East Coast. Two old friends, but making their first album together.
Gunning & Cormier have already started playing shows together, and audiences are overjoyed as something magical is happening with the two of them on stage. It's as real as it gets, two friends, brothers, uncompromising performers, making the music of their lives. There couldn't be a better time to discover the power of Two.
Gunning & Cormier are set to share the stage at festivals and venues across Canada to deliver an unforgettable evening of world-class entertainment.
Frantically Atlantic
http://www.franticallyatlantic.com/
Don Rigley and Michelle Daigle are a musical duo based in Fredericton, New Brunswick, Canada.
With a broad repertoire of traditional and original songs, tunes and yarns (Celtic, Acadian and beyond), Don and Michelle celebrate Atlantic Canada and leave their audiences wanting more!
In their combined history of performing they have served up their bill of fare in the Maritimes, Newfoundland, Quebec, Ontario, New England and Ireland toting tin whistle, fiddle, guitar, bodhran, spoons, hammered dulcimer and bouzouki… with an occasional side dish of accordion, banjo, doumbek and mbira!
Michelle and Don also conduct workshops for young and old alike in music, dance, storytelling, drama and Atlantic Canadian culture.
They have performed in kitchens, barns, ballrooms, pubs, churches, restaurants, gardens, theatres, train stations, train platforms, camp grounds, elevators, and cemeteries. And they have created moveable shindigs on boats, trains, buses, hay wagons and escalators.
Mark Roberts

This is a four piece rootsy band fronted by local singer-songwriter Mark Roberts. The band has influences of folk, country, blues, rock and  yes even celtic, as it rolls through a set list of Mark's original songs, and tunes from some of their favourite artists. Mark is a veteran of the Highland Games stage, and has a c-d out called "Kid From The Shore".
Katherine Moller Trio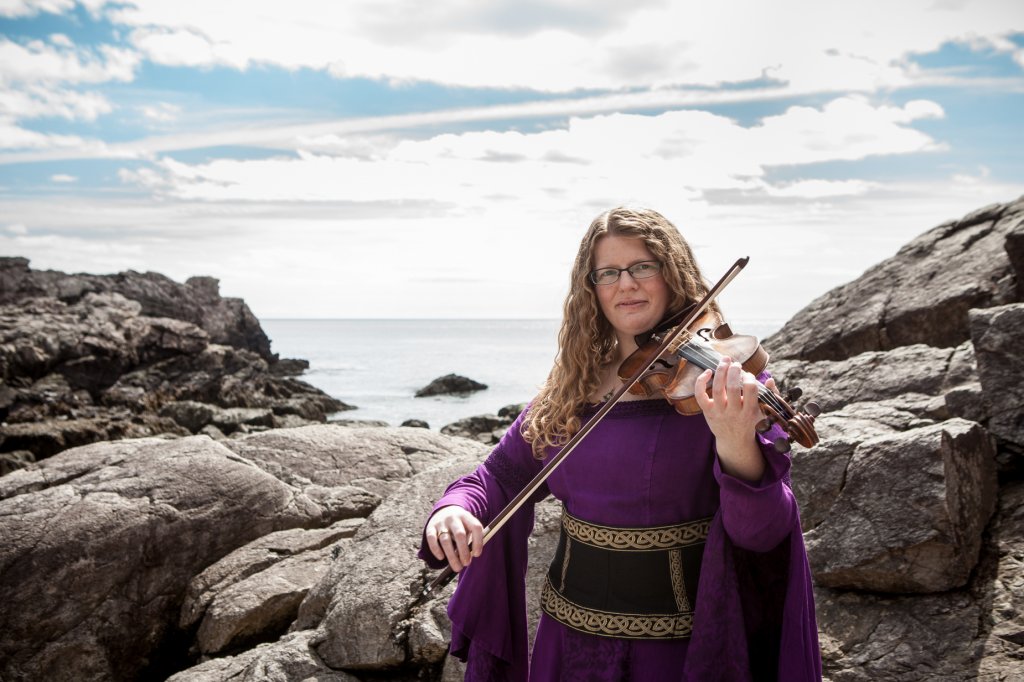 Katherine Moller is one of New Brunswick's most versatile musicians. Whether she is playing classic fiddle tunes in a crowded pub or the music of Bach on a concert stage, her love and respect for the instrument and its widespread appeal have brought her considerable acclaim as one of the province's true fiddle ambassadors.
A winner of three Music NB Awards (2012, 2014 and 2015) and ECMA nominee (2012), Katherine is an active performer as a solo artist and in several Celtic bands. With five recordings of her own, Katherine is without a doubt one of New Brunswick's most highly regarded representatives of the fiddle and its extensive versatility.
Katherine currently resides in Harvey, New Brunswick, near the birthplace of Canadian fiddle legend Don Messer.
Katherine is joined by her husband Kim Moller on bodhran and Tom Richards on guitar.
HATBand
A great Maritime sound rising from the roots and strengths of its members, the HATBand plays a bouncy mix of traditional Celtic and Maritime fiddle tunes, original songs and ballads and even a little rock and roll. They have been together for over 15 years years but, individually, they have been entertaining and honing their skills for decades. Members include Reg Hayes, George Andrews, Bill Toner and Dean Comeau.
Pogey
Since 2009, POGEY has been showcasing their unique take on Roots music at the biggest Celtic Rock festivals across the US resulting in an increased fan base and industry nominations.
 The band has mastered how to captivate audiences with their crowd participation skills, original songs and remarkable instrumentals. Their show combines electric guitar, fiddle, mandolin, acoustic guitar, bass, drums, bodhran and four-part vocal harmonies to produce a trademark sound. POGEY has headlined and participated at such events as the Grey Cup 100 Kick Off (Toronto), Kansas City Irish Fest (4 appearances in 5 years), Taste of Edmonton and the Chicago, Milwaukee, Colorado, Iowa and Michigan Irish Festivals. They have also performed live and been interviewed on CBS, FOX, CBC and countless radio programs across America and Canada.
POGEY is the vision of Nova Scotia native and lead singer Ray Mattie who once moved to the Toronto region in search of like-minded musicians. The goal was to create an all-original band with a Roots based sound. Without finding the right chemistry, Mattie moved back to Nova Scotia and through a referral contacted bassist Jonny Grant. Lead guitarist Warren Robert (who originally signed up for two shows) rounds out the original line up which has been in place for 11 years. With a solid original core and increased engagements POGEY has added extra musicians to the group. Drummer Mike Carroll and fiddler Anthony Rissesco round out the line up
Oak, Ash and Thorn
https://www.facebook.com/oatband
Juno award winning Joel Violette (Thrawsunblat, Ex-Woods of Ypres) experiments with folk along with Nicki Smith and a revolving door of contributors. Currently Geoff Hutchin and Irish import Ian Mac Gabhann round out the quartet. The self-recorded Coffee, Ale, and Southumbrian Tales was released in September 2015. The quartet is preparing material for a 2017 release.
Dulcinaya
Formed as a duo in 2015 Dulcinaya originally included Line Michaud, violin and vocals and Carolyn Holyoke, keyboard. This collaboration drew from their Celtic and Francophone backgrounds with driving fiddle sets, original arrangements and a touch of classical. Combine this with Latin percussionists Juan Morales and Luis La Rosa and voilà…a sound that fits comfortably in the genre of world music. This expressive foursome offers a show full of passion with a party-like vibe. A little dancing, singing and plenty of rhythm caps off a Dulcinaya performance.
Different Folk
Different Folk is formed of Kim Moller (vocals and bodhran), Will Toner (vocals and guitar), ECMA nominee Katherine Moller (vocals and fiddle) and Don LeBlanc (bass). An upbeat group, they perform a mix of Celtic, maritime and folk-rock with a blend of beautiful vocal harmonies and lively fiddling.
Combining a melodious mix of Maritime music with contemporary arrangements of Celtic favorites, and then adding a generous helping of foot stomping fiddling; Different Folk is just what you need to get that kitchen party started! Tight vocal harmonies with a knack for having fun are a guarantee to liven any event, big or small. So come, join in and sing along. You too might find yourself to be one of the Different Folk!